The Immune Epitope Database and Analysis Program (IEDB) is a freely available resource funded by the National Institute of Allergy and Infectious Diseases, to advance immunology research.

The database allows easy searching of all published experimental data characterizing antibody and T cell epitopes studied in humans, non-human primates, and other animal species. Epitopes involved in infectious disease, allergy, autoimmunity, and transplant are included. The data were derived from more than 19,000 publications. The Analysis Resource also hosts tools that assist in the prediction and analysis of B cell and T cell epitopes.

In recent years, the IEDB has updated its search interface and added highly sought after data, such and antibody and TCR sequence information. During this workshop, we will detail how the IEDB can be used to facilitate immunological research.

Who should attend?
Researchers studying T cell and antibody epitopes

Bioinformaticians

Those new to the IEDB

Those wanting to better understand and use the many features of the resource
Event Details
Date Thursday, Nov. 7 – Friday, Nov. 8, 2019
Place National Institute of Allergy and Infectious Diseases
5601 Fishers Lane

Rockville, Maryland, 20852, USA
Informational pdf available for download here for offline reference.


Space is limited!!


Registration Deadlines
Limited funds are available for travel fellowships to help defray transportation and lodging expenses only, and must be received by 1 August 2019. Application can be downloaded here.


General applications (no travel support) must be submitted by 1 September 2019. Application can be downloaded here.
Completed applications or questions can be submitted via email to workshop@iedb.org.

La Jolla Institute for Immunology
www.iedb.org
www.lji.org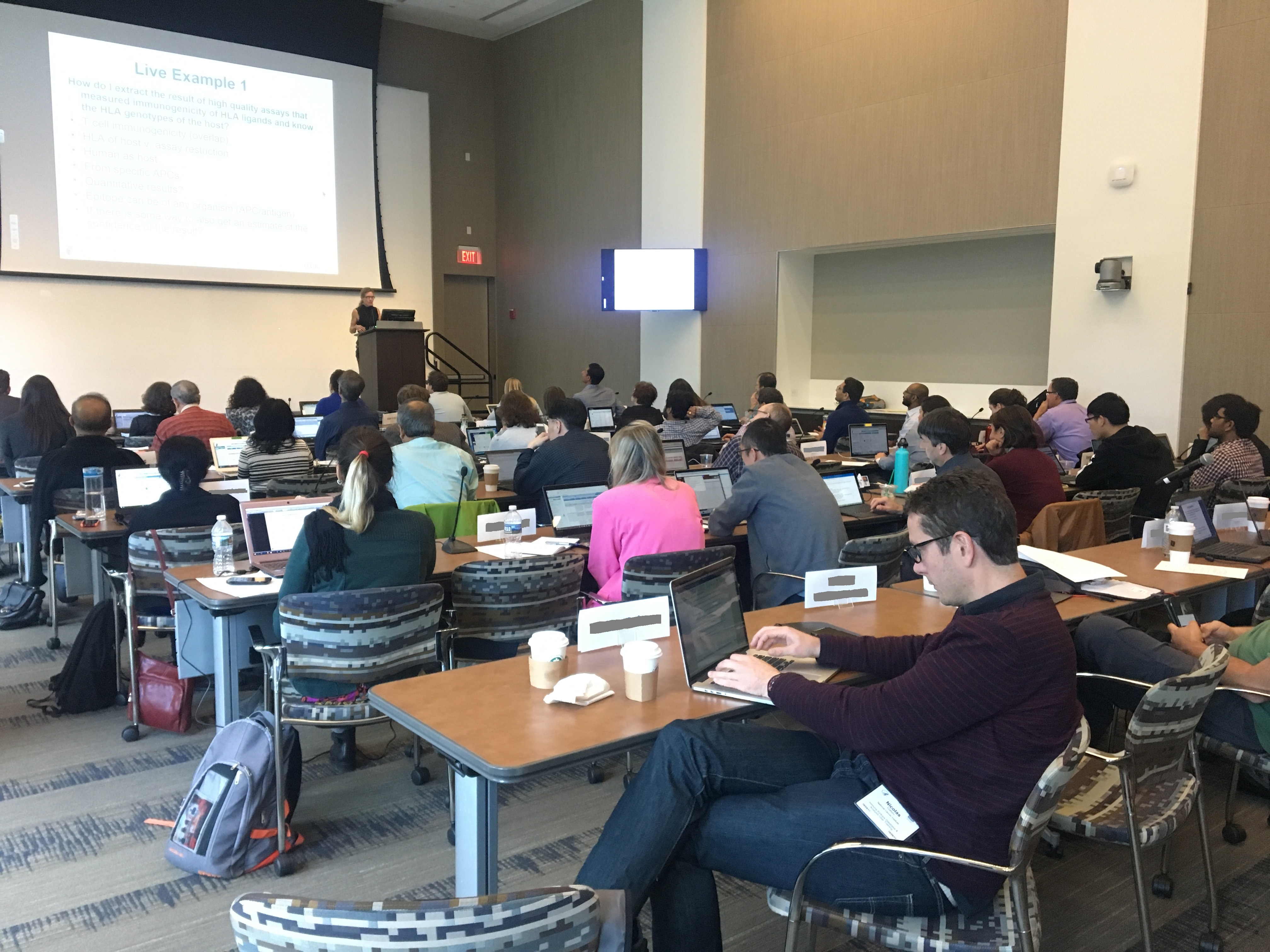 Participants at the 2017 IEDB User Workshop
in Rockville, MD

Topics Covered
Extensive question and answer opportunities are available for individualized attention


Tentative Program
Day 1 IEDB staff will describe the IEDB curation process, data structure, and data content. The different query features will be demonstrated. Staff will be available to provide individualized help to participants.
Day 2 Presenters will describe the features of the Analysis Resource, a collection of epitope analysis and prediction tools. The use and interpretation of results will be covered.